Recently I wrote about Anthony Broadwater, a man convicted of the rape of bestselling author Alice Sebold, the experience of which she wrote about in her celebrated 1999 memoir, Lucky, was exonerated.
And in a stranger-than-fiction twist, the Executive Producer of the Netflix film adaptation of Lucky played a supporting role in the exoneration before he himself was fired from the production for raising questions.
In a plot twist worthy of an Oscar, the project was then subsequently killed, according to Variety, after the financiers pulled their support.
It was during the show's pre-production earlier in early 2021 that Timothy Mucciante, executive producer of the Netflix production, began to have suspicions when he read the first draft of the film script, which differed significantly from Lucky.
Mucciante was previously a lawyer and sex crimes prosecutor in Michigan. He hired a private investigator to review the original legal case against Broadwater, who served 16 years in prison for the crime.
Broadwater had no previous criminal history when arrested five months after the crime. Sebold had seen him walking along a sidewalk, and thought she recognized him. The racial component to the crime – a white woman accusing a Black man – cannot be ignored, especially given the wider historical context of similar charges.
Mucciante's investigator raised serious questions about the forensic evidence used in the case, as well as the fact that Sebold failed to initially identify Broadwater in a police line-up, which was not disclosed to the jury.
In late November, a New York state judge overturned all charges against Anthony Broadwater.
Subsequent to my original blog post, Alice Sebold issued an apology, that was accepted by Broadwater, although criticized by many for claiming no "debate" existed at the time about racial disparities in the justice system. Her publisher Scribner pulled the memoir.
It's a twice-cursed story. Alice Sebold's life was forever shaped by the violent trauma she experienced as a university freshman. And Anthony Broadwater's life was stolen from him. Beyond the jail time, he was unable to get a job due to his sex offender status, nor was he willing to bring children into a world that had treated him so unjustly, despite the wishes of his wife.
I've always been queasy about moral quandaries of True Crime, whether that is documentaries or books or podcasts.
At their worst, they are pop culture entertainment that peddles in the pain of others, offered up on an altar of a belief that objective truth exists, and it belongs to the greater collective, rather than the individuals or families directly involved.
At their best, though, they carry the promise to right wrongs. After all, Anthony Broadwater was denied parole at least five times, according to his attorneys, because he wouldn't admit to a crime he didn't commit. He never stopped trying to clear his name. Yet it took 40 years, and 5 sets of attorneys before that happened. The latest set of lawyers got involved partially due to Tim Mucciante, the Executive Producer fired from the Netflix show.
Regardless of what I think, one thing is for sure certain – the audience for True Crime is massive and addicted.
People have always been consumed by crime stories. Beyond the perennial bestselling Mystery & Thriller titles, many general fiction books are rooted in a violent episode, whether that is the Pulitzer Prize-winning The Executioner's Song by Norman Mailer, Margaret Atwood's Alias Grace or The Blind Assassin, or Colson Whitehead's recent Harlem Shuffle.
In addition to Lucky, Alice Sebold also wrote the hugely popular novel, The Lovely Bones, whose protagonist is a teenage girl in heaven after she's been killed by a rapist. The book sold more than 8 million copies and was adapted into a movie.
Why are stories of brutality so compelling? It's a question I asked myself as a university student when I was drawn to completing a major in Criminology alongside an English Lit degree.
The study of criminology is a mixture of psychology, sociology, and criminal law. Why humans do what they do, the larger societal and institutional context that influences or eclipses free will, and governmental reaction.
The law is the fundamental underpinning of the societal contract in which we all live. It's a forced contract – there's no opt-out, despite what QAnon might tell their supporters. But the institutions charged with administering those laws are fallible, and like all systems of power, they're driven to maintain the status quo.
When I was a teenager, there were two grisly news stories that consumed the imagination. I'm still unable to walk into a home garage without thinking of Peter Demeter, and his wife Christine whom he had bludgeoned to death.
Nor do I ever drive alone at night on the highway without remembering the case of Lynda Shaw, a young woman from Huttonville who was driving back to Western University when her car was tampered with at a gas stop. She was subsequently forced off the road, raped, and murdered.
Storytelling is the collective campfire. A millennia of cautionary tales have warned us about things (and people) that howl in the shadows. That they provide both entertainment and valuable lessons are equally true. Their stickiness, especially when embedded at a young age, is inevitable.
Although I'm not an aficionado of True Crime, I frequently read mysteries and thrillers. And I've written about this case in this newsletter.
I also found myself this fall eagerly awaiting each new weekly installment of Hulu's fictionalized Only Murders in The Building, a mystery-comedy about three true-crime podcast-addicted New Yorkers who take it upon themselves to investigate a murder that takes place in – you guessed it – their NYC brownstone.
It was compelling in part because of the chemistry among actors Selena Gomez, Martin Short, and Steve Martin, with cameos by Sting, Nathan Lane, and others.
And partly because it was a break from the endless grisly crime shows that make up the streamers these days, whether they be true or fictionalized. I'm not alone. Hulu confirmed Only Murders in the Building was their most-watched comedy EVER, by a good measure.
As the poet Gregory Scofield recently wrote on social media, sometimes you crave the light.
**
Writing & Pull Focus Buzz
I'm enormously grateful for the recent positive reviews of Pull Focus.
Kirkus Reviews: Starred Review, "Two thumbs up for action, suspense, and lust."

The opening of a major film festival goes off script when the CEO's former husband and his half brother—her current lover—go missing…The title of this taut, thrilling literary novel, written by a former film producer, refers to a camera technique in which the focus adjusts from one character to another.
[An] accomplished thriller debut […] Walsh's expert knowledge of the film industry, the corporate world, and the ruthlessness of players in both adds arresting verisimilitude to this novel. Great for fans of Britt Lind's Deception & Taylor Jenkins Reid's Malibu Rising.
"Amazingly propulsive […] A masterclass debut that shows Walsh as a talent to watch."
"Pull Focus is a sexually driven thriller that gets steamier with every turn of the page. Walsh should get this story onto a script so more people can experience this thrill ride."
Canadian Living Magazine – Holiday 2021 Gift Guide (December issue)
Give More Canadiana. 20 True North Books That Enlighten and Entertain.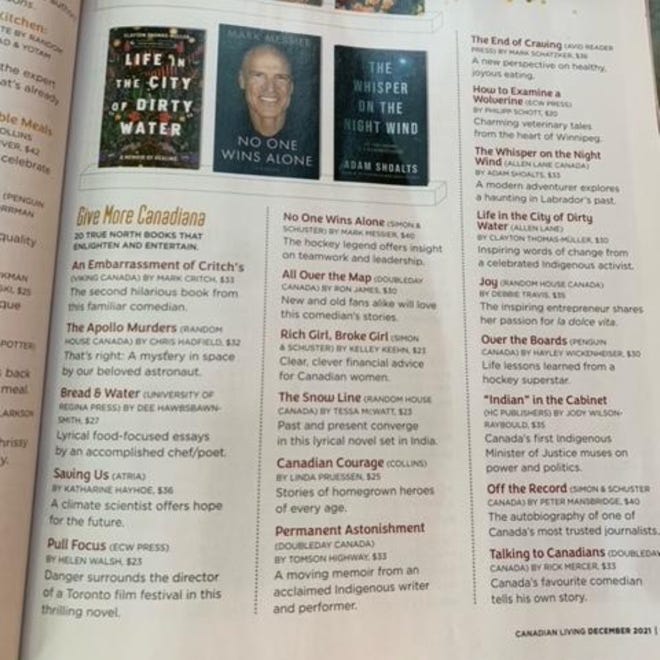 Chatelaine Magazine: Feature: Best Suspense Books To Read This Fall.
Sex, murder, jealousy, and greed: These are the seasonings that go into cooking up a juicy thriller. Here are four sure-fire ways to satisfy your hankering for dark drama. A Slow Fire Burning by Paula Hawkins, All Her Little Secrets by Wanda M. Morris, Billy Summers by Stephen King, and Pull Focus by Helen Walsh.
Plus, three new Author interviews/spotlights:
👉 Newstalk 1010/I Heart Radio: In-Depth With Film Critic Leonard Maltin & Helen Walsh.
👉 The Table Read (UK) – Author Interview. Via The Table Read
👉 Eden Mills Writers Festival – Author Spotlight. Via Eden Mills
As I wrote about in a recent Toronto Star op-ed, "Books are a popularity contest, and not just by celebrity book clubs. Publisher sales teams, booksellers, and the media are powerful gatekeepers, who can make or break a book from a new or unknown author. They are influenced by books showcased in industry trades (often American) and book fairs that happen months before publication. Too often these gatekeepers make conservative choices, trending towards the proven bet."
That's true of Amazon* but also of Indigo, and to a lesser extent the indie stores, too. Click HERE for the full op-ed full article on why we should all invest in being talent spotters is. Yes, it's behind the Star's paywall. Support journalism.
*A quick google search will serve up no end of articles, and the new book Everything and Less: The Novel in the Age of Amazon by literary scholar Mark McGurl, criticizing the impact of North America's largest book retailer on the publishing ecology.
I'm excited to share that I've just wrapped up the second draft of my second novel, a follow-up book to Pull Focus. (I'm yet to think of a snappy title). I immediately launched into a third draft, revising one subplot in particular.
**
News & Gossips
The amazing Louise Erdrich recently published a new book, The Sentence. "We're haunted by the spirits of settlers, by the spirits of government officials, by a history that includes extermination policies explicitly aimed at your nation, my nation, all nations. These are white ghosts." Read the NPR interview HERE.
**
I'm keen to see Denis Villeneuve's adaptation of the cult 1965 novel Dune by Frank Herbert. The previous version terrified me when I was a teenager. From this Deadline interview with Québec's Villeneuve: "Dune: Part One became the biggest opening of his career, Warner Bros' biggest opening of the pandemic era, and a reminder for audiences the world over of the power of cinema."
And while I'm admitting my childhood heebie-jeebies, I'd be amiss to neglect cults, in particular the Children of God. Actors Joaquin Phoenix and Rose McGowan grew up, in part, in the infamous cult run by David Berg. I read McGown's book, Brave, after chatting with her at the Edinburgh Book Festival. Now author Faith Jones, granddaughter of COG's founder, has written a memoir, Sex Cult Nun: Breaking Away from the Children of God, a Wild, Radical Religious Cult. It chronicles her childhood on an isolated farm in Macau and her journey to Kazakhstan and finally the US.
---
Bye for now. Thank you for joining me for this twelfth issue of Letterbox.
Please connect with me on ​Twitter​, ​Instagram, ​Goodreads, Facebook, Linked-In, Clubhouse: @helenwalsh, and my website: www.helenwalsh.ca
When Is Life Stranger Than Fiction? Let's Discuss…