Two years after I signed the publishing contract for Pull Focus, and 10 years after I wrote the first few pages, my book officially published last week.
I'm grateful to everyone's enthusiasm in the early reviews of the book, in sending comments, in entering the swag giveaway contest and blogging about it, and of course, to my publishing and publicity teams.
If it takes a village to raise a child, it takes a small army of bibliophiles to help a debut writer introduce her novel to the world.
That includes the poet/novelist Priscila Uppal, a close friend and mentor. Years ago, she said over lunch, 'Helen, you're always going to be too busy running things. If you want to write, then write. I'll be your coach and in exchange you can teach me how to raise money for an art + health institute."
Sadly, Priscila passed away three years ago, almost to the day. I'll raise of glass of champagne in her memory today and as thanks to David Layton, Anna Porter, Molly Peacock, Barbara Berson, and Rabindranath Maharaj, who generously offered editorial feedback over the years.
I hope you'll join me for these September virtual events! Free with registration.
Upcoming Event
Monday, September 27th, 6-7 pm EDT – Bob Ramsay Talks, In Conversation with Helen Walsh. Register HERE.
There are more in-person and virtual Toronto events this fall, as well as book tours in the UK (October) and US (November). Where possible, I'll livestream the talk portions of in-person events. Details to come.
"PULL FOCUS by Helen Walsh is a delightful story that captures the complex and often dark world of a Film Festival with the right amount of behind-the-scenes intrigue. With its crisp dialogue and fast pace, reading the book is like watching a film. The writing style is fresh and convincing."

– Purabi Sinha Das, Goodreads
TIFF + Belfast
TIFF opens this week, with an amazing line-up of films, both virtual and in-person. Line-up available HERE.
There are so many in the line-up I want to see, including the adaptations of Canadian novels All My Puny Sorrows (Miriam Toews) and Scarborough (Catherine Hernandez) as well as Kenneth Brannagh's Belfast starring Judi Dench, Jamie Dornan, Lewis McAskie, and Ciarnan Hinds.
Brannagh is well-known as an actor and director with a long list of movies, television, documentaries, and stage to his name. Born in Belfast in 1960, his family fled to England nine years later as 'the troubles' began to intensify. This heart-wrenching choice to trade community for safety lies at the heart of the film, and of so many people's experience of emigration.
More than 3500 people died between the late 1960s and when the civil war officially ended in 1998 with the Good Friday Peace Accord, half of them civilian. Unofficially, tensions have continued to simmer, increasing in the past few years as the power-sharing government between Protestant and Catholic politicians collapsed and the British government's scandalously dishonest handling of Brexit and 'the Irish problem' exacerbated fissures.
Brannagh's film debuted at Telluride a few days ago. It received some criticism for treating a bloody conflict through overly sentimental rose-coloured glasses. But far more reviews laud him for pulling off the difficult creative feat of exploring the political through a personal lens and feel it has strong Oscar potential.
I've been to Belfast several times, including years ago for meetings on a screenplay I'd written about children of mixed Catholic-Protestant parents, like my own. If you're not Irish, or haven't lived in Ireland, it can be difficult to understand just how divided along cultural lines the society still is.
Only 7% of students in Northern Ireland attend integrated schools – ie, schools with both Protestant and Catholic students. The remainder is segregated. (Only 1% of people in Northern Ireland identify as non-Christian.)
Communities and housing are mostly segregated, too, both in the cities and in towns and villages in the north, where rocks painted red, blue and white for the UK's Union Jack or green, white, and orange for the Irish tricolour, signal a Protestant or Catholic community.
Against the ugly politics of division, the beauty of Northern Ireland shines. The drive north from Belfast up the Antrim coast, past sheep-dotted green hills, to the Giant's Causeway (a World Heritage Site) is one of the prettiest in the world.
Nearby is the Carrick-a-Rede Rope Bridge, which crosses a 30-metre deep and 20-metre-wide drop to the ocean. Somewhat afraid of heights, I stayed on the mainland and watched my father and sister trot across to the small island and back.
Ballycastle, a fishing village in the northeast charms with its harbour and town square, where one year a fortune teller freaked out my normally indomitable sister Jackie. (Then again, the fortune-teller told me I was about to have twins, which never happened, so perhaps her delivery was more significant than her forecasting ability.)
The town is also the ferry departure point for Rathlin Island, the only inhabited island off Northern Ireland (150 ppl) and an extraordinary bird colony.
If you're a Game of Thrones devotee, you know that the real-life Westeros locations are everywhere: Winterfell (County Down), the Haunted Forest (Tollymore Forest Park), Stormlands cove (Cushendun caves, Country Antrim), Kingsroad (the Dark Hedges), Dragstone locations (Downhill Beach and Mussenden Temple), and more.
The list of fascinating things to do in Northern Ireland is too long to cover here. Belfast is full of terrific restaurants and the Cathedral Quarter, the Botanic Gardens and Belfast Castle, loads of sporting events and the Titanic Museum, if that's your jam.
Then of course there's tours of the troubles, and infamous political murals tour.
Belfast
The past couple months, I've read several thrillers set in Northern Ireland. My friend Julian introduced me to the work of Adrian McKinty, an author of several different series as well as stand-alone books.
Duffy is a Catholic police sergeant, based in Carrickfergus, just outside Belfast, where McKinty himself grew up in a Protestant family. His writing is fierce, fast, darkly funny, emotionally disturbing and spot-on about Northern Ireland in the early 1980s, during the worst of the almost daily bombings and murders.
To be a 'peeler' (police officer) is to be mistrusted by everyone, but to be a Catholic who joined the Royal Constabulary means you're a traitor to fellow Catholics and a suspected Fenian terrorist to fellow police officers, virtually all of whom are Protestant.
McKinty has said he created Duffy as an outsider to the community to interrogate the milieu in which McKinty had grown up.
"I made him Catholic, a policeman, bohemian and from Derry – four things that were so alien to the people of Coronation Road, Carrickfergus. If an actual alien from space had landed it probably wouldn't have been as shocking as a Derry Catholic cop walking down their street."
Duffy is a wry outsider to the world around him, but also in a sense to the author who created him, given their very different cultural backgrounds. But it's that outsider voice, combined with keen observation and fiercely talented writing, that provokes insight.
In 2017, after having struggled for twelve years to support his family as a writer, and being evicted from their rental house, McKinty gave up writing to work in a bar and drive Uber. Hearing his story, the author Don Winslow forwarded several of McKinty's books to his own agent, Shane Salerno.
Salerno convinced McKinty to keep writing; particularly, the novel that would become The Chain. He even loaned him $10,000 so he could survive financially. The book went on to become both a bestseller and award-winner, and McKinty is back writing full-time.
My other recent NI read was Northern Spy, written by American author Flynn Berry. The book follows Tessa, a BBC journalist in Belfast, whose sister disappears amongst allegations that she's an IRA terrorist. The timing is contemporary, albeit a version of Ireland that once again has border controls.
Both McKinty and Flynn write powerfully about the sheer violence and hypocrisy of the paramilitaries – the IRA on the Catholic side, and loyalist organizations like the Ulster Volunteer Force (UVF) and Ulster Defence Association (UDA) on the Protestant. Both fund their terrorist organizations with gun and drug dealing, and in the case of the IRA, through sentimental Irish Americans in Boston and New York.
Years ago, I was travelling in France with my sister Jackie and her close friend John. John grew up in the Falls Road neighbourhood in Belfast, infamous for its political street murals and sectarian violence.
John wanted to stop in Lourdes, a major Catholic pilgrimage site. After visiting the Grotto of Massabielle, we sat outside at a café having tea, when a priest recognized John from Belfast and came over to join us.
It was apparent within minutes the priest was an IRA sympathizer who felt that Catholic informants who were killed were an unfortunate necessity in the fight for political freedom.
I started to take him on, before John cut me off. The priest read the situation perfectly; I'll never forget the arrogant gleam of power in his eye. As we walked stiffly to the car, John said 'You didn't grow up in 1970s Belfast, you can't understand what it was like. And it's not safe to talk about it."
We were in France. How dangerous could it be?
John shook him head. Like Brannagh's family, John's mother had made the difficult choice to send him away for safety when he was eighteen. "It'll never be safe to criticize the IRA to a man like that. Either in Ireland or anywhere else."
I've thought about that often over the years. When I'm having lunch at the Europa Hotel in Belfast, the most bombed hotel in Europe. Re-watching In the Name of the Father or reading about the long search for justice for the families of the Omagh bombing.
Or sitting in a book festival talk listening to NI journalist Malachi O'Doherty argue the Peace Accord was only possible because Martin McGuinness and Gerry Adams had teenage sons in the late 1980s whom they didn't want to follow the same bloody path as they did.
So, I'll watch Belfast with more than a little interest. All war is intensely personal, but civil war most of all.
The Cutthroat Business of Culture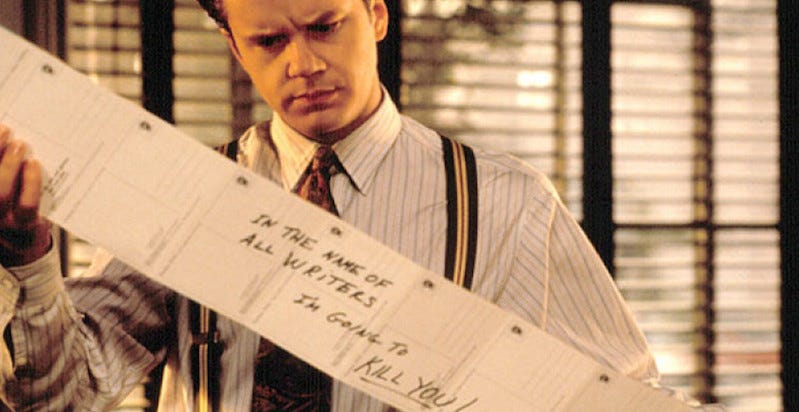 I had fun writing this CrimeReads article about how the film industry has provided grisly backdrop for authors over the decades. A world of rags-to-riches and sudden reversals; glamour and seediness; eccentricity and charm—cinema and its players are perfect fodder for the criminally inclined.
Swag
There are only a few weeks left in the swag giveaway contest. Enter HERE for your chance at the weekly giveaway (book bag, t-shirt, baseball cap and signed copy of Pull Focus) as well as the grand prize draw.
News & Gossips
This Literary Hub article recommends literary tv/film adaptations coming out during September, both new and old favourites.
**
Salman Rushdie is joining the Substack party, launching Salman's Sea of Stories, where he will serialize his new 35,000-word novella, The Seventh Wave, and release new short stories.
His newsletter is free, but will have extra features for paying subscribers, including more frequent newsletters, behind-the-scenes personal details, and interactive forums.
---
Bye for now. Thank you for joining me for this tenth issue of Letterbox. Please remember to SUBSCRIBE.
Bye for now. Please connect with me on ​Twitter​, ​Instagram, ​Goodreads, Facebook, BookBub, Clubhouse: @helenwalsh, and here on my website.
Book Birthday (🎂🥳) + Belfast