Well, that was fun.
Meet 'The Jane' – a gin, cucumber juice, fennel-infused SoCal kind of cocktail, created by Jonathan the mixologist at Piccolo Santa Monica where I held my long Covid re-scheduled City of Angels (aka, Los Angeles) book launch. A drink as feisty and original as her protagonist namesake.
It was wonderful to be back in LA, a city where I previously worked. Years ago, during a two-year run on a crazy entertainment project, I'd fly west from NYC every second week and stay in a lovely bungalow on the grounds at the Fairmont Miramar Santa Monica, a fabled property that recently celebrated its 100th birthday.
The property, a block away from the ocean, was originally the residence of silver mining magnate and senator John P. Jones, who co-established the town of Santa Monica in 1875. He entertained such guests as Susan B. Anthony and Mark Twain in his "White House of the West," as it came to be known.
Shortly before he died, Jones sold the property to King Gillette (you guessed it, best known for the Gillette Razor), and then to hotelier Gilbert Stevenson. In between, it served a brief stint in World War I as a boys' military academy.
The Miramar ('sea-view') opened as a hotel in 1921. Over the years, the property has played home to many famous long-term guests, including Greta Garbo, Senator John F Kennedy, and Jackie Kennedy.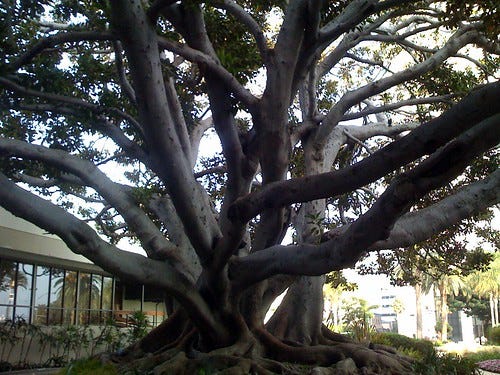 The iconic property has withstood multiple owners, construction additions and deletions, celebrity overdoses, and luxurious weddings, as well World War II, when used as a redistribution centre for army officers returning from overseas.
It's also starred in numerous TV shows and films, including That Touch of Mink, (Cary Grant and Doris Day), Dallas, Hart to Hart, Starsky and Hutch, and Knot's Landing.
The history of the Miramar is interwoven with the history of Santa Monica, and indeed in many ways the City of Angels itself, which was incorporated as a municipality in 1850 (just before California became a state).
Los Angeles punches above its weight as a cultural zeitgeist – this city of rags-to-riches and sudden reversals, glamour and seediness, eccentricity and charm. It's Muscle Beach and the Venice Boardwalk, Beverly Hills and Bel-Air, Compton and South Central, Selling Sunset and the Santa Monica Pier.
We breathe in references to LA with everything we read, watch, and listen to because they are so ubiquitous. Like a movie set, the place seems somehow constructed – half-real, half-magic, and entirely compelling. One is supposed to hate on La-la Land, especially if you've lived in New York, but the truth is, I love it.
The mountains and the ocean are unbeatable, as are the contemporary food, music, and art scenes, great independent bookstores, and a hugely diverse populace of Angelenos who come from all over the world and hustle to make it their home.
I'm grateful for the support and friendship of the Consulate General of Canada in Los Angeles, and new friends Mana and Ann, who sherpaed me all around LA. Mana was instrumental in organizing the book event. Ann took me walking along the Malibu beaches and to the Getty Museum, a modernist wonder perched in the hills over West LA. As a Canadian, I felt right at home when I got to this exhibition: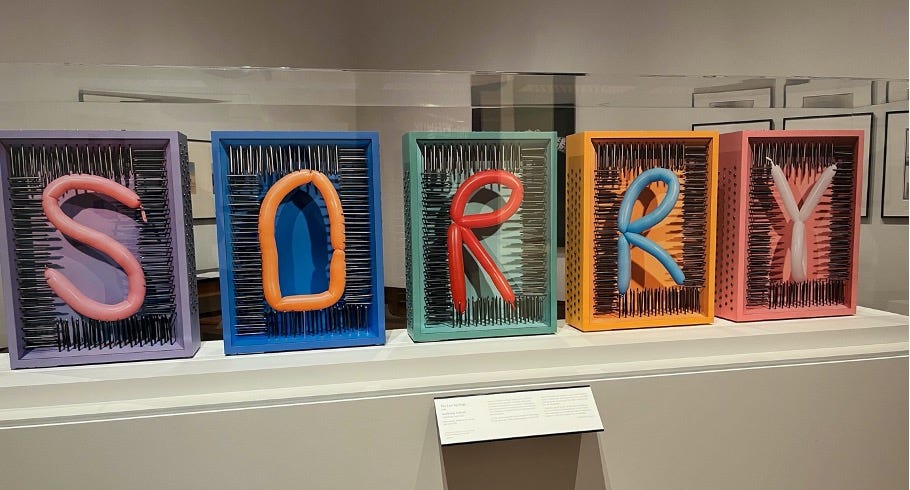 I was also delighted to catch up with Aviva Layton in her very funky West Hollywood cottage not far from the Petite Hermitage hotel, where I stayed a few years ago – a remarkable boutique hotel with a rooftop pool, extraordinary art collection, and an unusual minibar selection (of the sex toy variety).
I'm grateful to Diesel Books for being the launch's bookstore partner. Co-owners Alison Reid and John Evans (also life partners who after forty years together recently decided to tie the knot) have beautiful, well-curated stores in Del Mar and Brentwood.
It's been a hard haul for indie booksellers the past two years; I stand in admiration of the determination and skill needed to keep these vital community spaces going.
News & Gossips
So delighted that many books alumni of Diaspora Dialogue's mentoring programs are publishing this spring, including Terri Favro's The Sisters Sputnik, Aaron Kreuter's Shifting Baseline Symptom, Sheila Murray's Finding Edward, Dawn Promislow's Wan, Reema Patel's Such Big Dreams, Salma Hussain's The Secret Diary of Mona Hasan, The Day-Breakers by Michael Fraser, Waking Occupations by Phoebe Wang, and Stacey Mae Fowle's co-edited collection Good Mom on Paper.
Also thrilled for Mai Nguyen, another DD alum, who sold her debut novel, Sunshine Nails, in a six-figure deal to Atria Books in the US/Simon & Schuster Canada for publication in summer 2023. The novel follows a Vietnamese family living in a gentrifying Toronto neighborhood who see their "no-frills nail salon threatened by the arrival of a new 'Starbucks of nails' salon."
And lastly, congrats to DD alum Catherine Hernandez, whose film Scarborough I profiled in last month's Letterbox. Scarborough cleaned up this past weekend, winning eight Canadian Screen Awards, including best adapted screenplay for Catherine, as well as best picture, best directing, and the John Dunning best first feature film award.
**
April is National Poetry Month, and I was delighted to return home from LA to find my pre-order of Farzana Doctor's new collection, You Still Look the Same.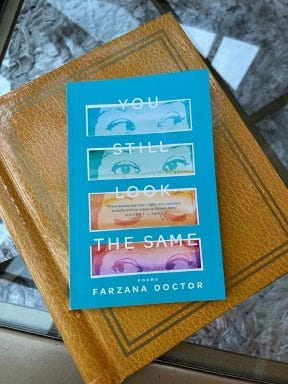 Other poetry books currently on order, or about to be, are Cane|Fire by Shani Mootoo, Vinegar Hill by Colm Toibin, Land of the Rock: Talamh an Carraig by Heather Nolan, and Time Is a Mother by Ocean Vuong. Just a start.
**
There's a lot of inside publishing baseball writing happening these days. Tessa Sharp, a US hybrid fiction author (including The Girls I've Been, currently being adapted for Netflix), is very active on Twitter. (Hybrid = an author who combined both traditional and self-publishing, the latter now being called 'indie publishing'.)
Sharp, blunt details the minutiae of the industry from the POV of someone who supports themselves by their writing alone. Publishing is a business, and authors need to be entrepreneurs, a reality we don't talk enough about.
I've also subscribed to the brand new Substack newsletter by Paul Bogaards, Kill Darlings. Bogaards was Deputy Publisher/EVP of Publicity at Knopf US for decades years before calling it quits. The newsletter is a cri de coeur for the state of publishing (primarily large houses) by someone who is both fatalistic about the industry's challenges, yet hopeful that change is possible. It's also very funny.
**
Bye for now. Thank you for joining me for this sixteenth issue of Letterbox. Please remember to SUBSCRIBE.